I have long since finished my August "To-Read" list, and now I'm trying to work my way through the reviews. Now that we have a newborn in the house, I expect the reviews to take a back seat to the family and the novels. That said, I had a couple hours of constructive writing this morning, so I thought I would throw out a quick review.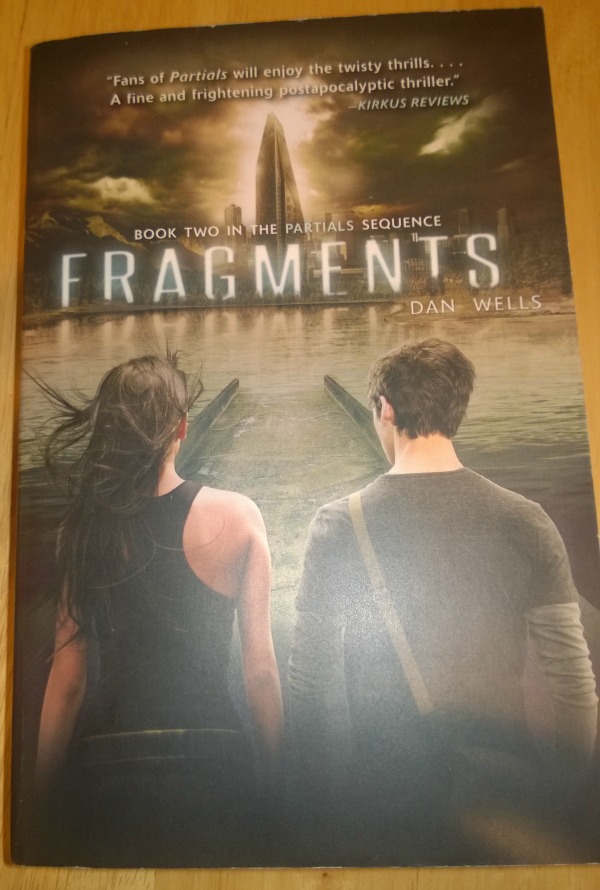 Fragments, by Dan Wells, was published in 2013 by Balzer + Bray. The sequel to his dystopian Sci-Fi novel Partials, Fragments picks up immediately after the events of the first book. Kira Walker has discovered the cure for RM, a deadly virus that kills every child born of the ever-dwindling human population. But that's not enough for her, because humanity has no way to replicate it. The Partials, genetically enhanced soldiers, are the source of that cure, but there is no way they would cooperate. After all, they were the ones that released RM in the first place, right?
Kira is beginning to have doubts about everything she thinks she knows. She sets out on a journey into New York City, where ParaGen's headquarters used to be. Her hope is that some documentation remains as to the source of the disease and the reason the Partials launched their biological attack in the first place. There, she finds an unlikely companion: a former ParaGen employee unhinged by the fall of society. Together, with the Partials Heron and Samm, Kira sets out across the toxic wasteland toward Colorado, hoping beyond hope that they will find some indication of the truth.
Meanwhile, Kira's boyfriend Marcus finds himself embroiled in a political battle on Long Island. Before he can wrap his mind around current events, the Partials break the cease-fire and invade the last remaining human settlement.
Partials was a good book. It was a little predictable, but it didn't detract from the overall story. Fragments stepped up the story and ratcheted up the tension. Again, the plot was a little predictable on the grand scheme, but that's okay, because the twists and turns that occur between the start and finish were fun and exciting. Kira remains a strong female protagonist that doesn't spend any time navel-gazing, even when she has every right to be. She's active, athletic, and decisive.
Samm, on the other hand, is much more introspective than I expected. Granted, he didn't have a point of view in Partials, but I certainly didn't expect him to be quite so… human. He is a genetically engineered killing machine, right? This is a great juxtaposition of expectation versus reality.
The last POV character, Marcus, was incredibly inactive in Partials. As Kira's boyfriend, he was almost an antagonist for the first half of Partials. His sarcastic wit and improvisation is refreshing to read in Fragments, as he keeps finding himself in situations he has no business being in.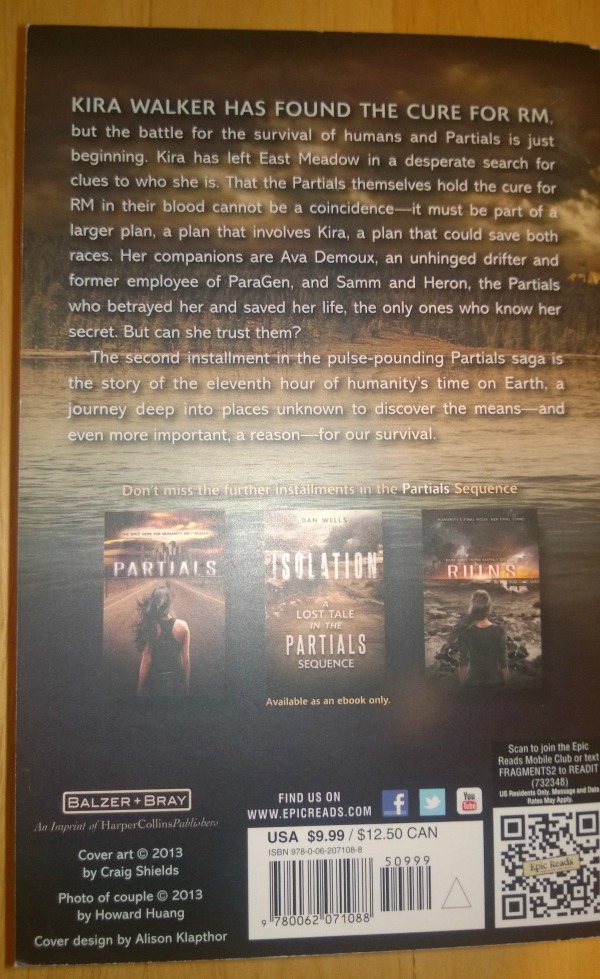 You can probably figure out that I am a big fan of Dan Wells' work. After all, I have reviewed two of his John Cleaver series on this site already (Mr. Monster, and I Don't Want to Kill You). Mr. Wells has a talent for crafting stories that are believable, fun, and darkly humorous. Fragments does not disappoint his fans.
I would absolutely recommend Fragments to readers of Young Adult Sci-Fi, but only if you read Partials first. The characterization that occurs in this book is fluid and evolves as each of the characters deal with trials and tribulations. That's why reading Partials is so important, in my opinion. In order to understand Kira Walker and, especially, Marcus, you need to know where they come from. You can find Fragments on GoodReads and Amazon