Book Review: I Don't Want to Kill You
I Don't Want to Kill You, written by Dan Wells and published by Tor in 2011, is the final book of the original John Cleaver trilogy. John has survived two demon attacks and just called a third on the phone and threatened to kill it too. Tensions are running high at the start of I Don't Want to Kill You, as John is waiting for the other shoe to drop. Once again, the bodies start to pile up, and John must track this killer, just like all the others. To make it more stressful, Marci (only the most attractive girl in high school) wants to date him. Given the mental and emotional changes he went through in Mr. Monster, John is less worried about letting out his inner-sociopath to track the killer, but he (strangely) finds himself worried about how Marci would think of him if she knew. Who knew being a teenage-demon-killer could be so hard?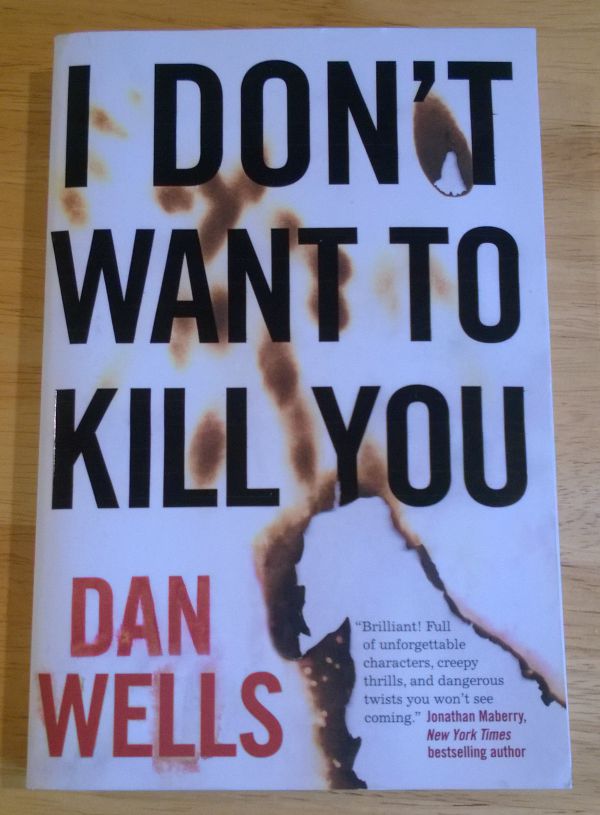 I Don't Want to Kill You may feel like more of the same when it starts, but the tone of the story quickly changes. Once again, Mr. Wells puts us in the eyes of John, only this isn't the same John we know from the first two books. Having survived the trials of Mr. Monster, John has decided that he likes himself as the hero, the demon-slayer, and not as the budding psychopath, and that mentality saves him. He's proud of the changes in his life, but he's also afraid of what failure would mean. It's this pride, and fear, that makes him more human than he's ever been before.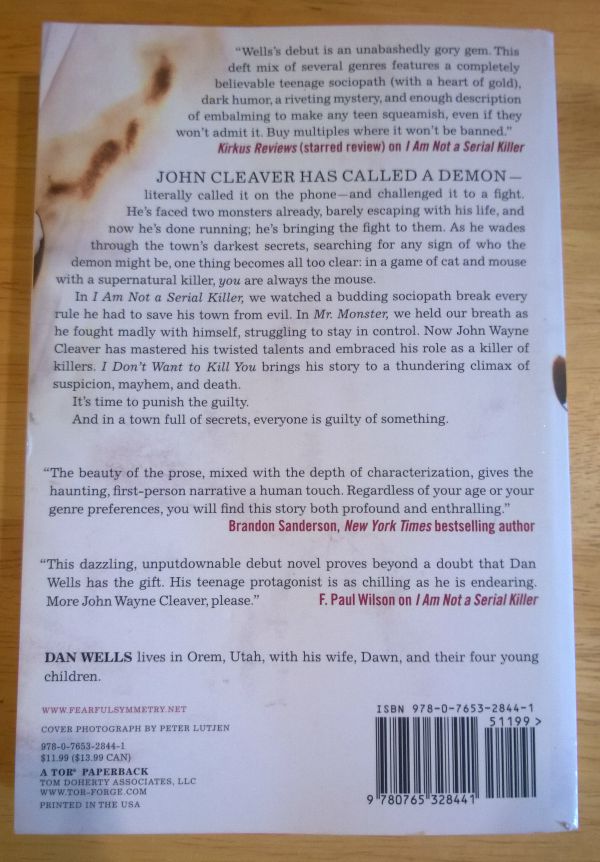 Every John Cleaver book has a twist, but I Don't Want to Kill You has some twists and turns that I didn't see coming. After Mr. Monster, I was sure that I had a good handle on Mr. Wells willingness to put his characters in danger. I was wrong. And when I say I was wrong, I mean, "Good lord, holy crap, I was wrong!" I Don't Want to Kill You has got to have the single most satisfying twist I've read in a long time.
I could continue to write a gushing review, but I don't see the point. This book is amazing, it's hard-hitting, and if you're a fan of emotionally-hard-hitting fiction, you should totally read the entire series, because the end is worth the price of admission and then some. Mr. Wells has recently started a new John Cleaver series and I'm excited to see who John kills next.
I Don't Want to Kill You
Dan Wells
Copyright 2011, Tor
ISBN 978-0-7653-2844-1