August 2015 "To Read" List
Updates!
First and foremost, the past two weeks have been incredible. August 14 was my last day as an environmental consultant. I got an opportunity in Cedar Rapids to assist with Clean Air Act permit writing and compliance, and I took it. Life throws many opportunities at each of us, and I recognized this one for what it was: a step in the right direction.
My first day as an air quality engineer was August 17, so life has been busy. In the last week, I had to make some changes. I was telecommuting for the past 15 months, which gives a person a ton of extra time in the day to do whatever they want to do. In the last two weeks, I had to make choices about priorities: writing, games, worldbuilding, blog, website. I chose to keep working on Dreamscape, trusting that I would find time to do the other things as I settled into a routine. I will continue to prioritize my writing over the blog and website in the weeks to come, so please be patient!
Now, on to my current "To Read" list! I'm excited to say that I have, at the time of this posting, read all of the books from my June 2015 list and then some. As I find time to write reviews, I'll get them posted. Again, patience!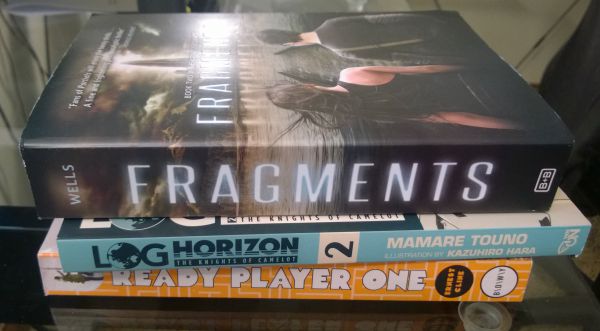 Fragments by Dan Wells
Fragments is the second book in the Partials Sequence. Set in a dystopian society in which a disease called RM wiped out the majority of the world's population. The remaining population found itself in the unenviable position of no longer being able to bear live children. Following the events of the first book, Kira has left East Meadow in search of answers: who is she and where did RM come from?
As you all know, I'm a fan of Dan's work (see review here). I actually read Partials almost a year ago, but I got distracted by his John Cleaver trilogy. I'll be rereading Partials in the coming weeks to refresh my memory before getting into Fragments. Partials had some twists that I found predictable (unlike the John Cleaver books), but overall was a ton of fun to read. I'm definitely looking forward to this one.
Log Horizon 2: The Knights of Camelot by Mamare Touno and illustrated by Kazuhiro Hara
Shiroe and his party are at it again, trying to restore order to the chaotic digital world of Elder Tales, the Massively Multiplayer Online Role-Playing Game that he and 10,000 other people found themselves literally sucked into. In a world with no consequences for murder, all semblance of society have broken down, and Shiroe is trying to release two of his friends from indentured servitude with one of the more unscrupulous guilds that has risen in the wake of The Catastrophe that brought them all there.
I read Log Horizon 1 on a whim. As I mentioned in my review (here), I am in the process of writing a near-future sci-fi tale about a guy that spends most of his time in a digital world. I enjoyed Log Horizon 1 for its whimsical nature, as well as its ability to help me decide how to (and not to) write my own digital world. While I'm looking forward to reading this (I wouldn't have bought it otherwise), this one is at the bottom of the list. The first book read so quickly that I expect once I get into it, I'll finish it pretty quickly. Also, the artwork in the first book was pretty amazing, so I'm looking forward to that too.
Ready Player One by Ernest Cline
When Jim Halliday passed away, the creator of the digital second-life simulation called OASIS left behind a clue and a promise. Anyone that figured out his puzzles and completed the challenges set forth would inherit his fortune and controlling interest in the company that controlled OASIS. Now, the hunt is on for these "Easter Eggs" in the simulation, and people are willing to kill to get their hands on the billions up for grabs. Wade Watts makes history when he solved the first riddle, but now his life is in terrible danger. Can he solve the puzzle and stay alive?
Ready Player One was recommended to me by basically everyone. I love video games and movies, and this book is full of references of both. I have been meaning to read this long before I started my Dreamscape project, but given that this is another book about a digital world, I thought it was time to bump it up on my list and get to it as quickly as possible. At the time of writing this, I'm about halfway through and enjoying every minute. I'll share my thoughts as soon as I get a few minutes.
Other Books: These are books that are either out or coming out soon that I want to read, but I don't own yet.
The Fate of Ten by Pittacus Lore
This one doesn't come out until September 1, but I'm a big fan of the series. I'll be picking this one up as soon as it comes out.
The First Confessor by Terry Goodkind
I loved the Sword of Truth series, but Goodkind's most recent books have been a little off-point and rambling. I still want to read his books, but I will be waiting until this one is paperback to pick it up.
ReamDe by Neal Stephenson
Recommended to me as worthwhile for the Dreamscape project. I'm waiting on paperback for this one.
The Peripheral by William Gibson
Also recommended reading for Dreamscape, and also waiting for paperback.