Since I have started taking writing seriously, my backlog of media for entertainment consumption has been backing up. On May 12, I decided Stormgate was "done" and submitted it for (hopefully) publication. While waiting for a response, I decided that I needed to get caught up on all my books that were accumulating. This is by no means a comprehensive list, but these are the books that I hope to read and provide short reviews for in the coming weeks.  In fact, on recent work travel, I've already finished two of these by the date of this post. Obviously, I need to be working on my website more than once per week.
Without further ado, here's the list: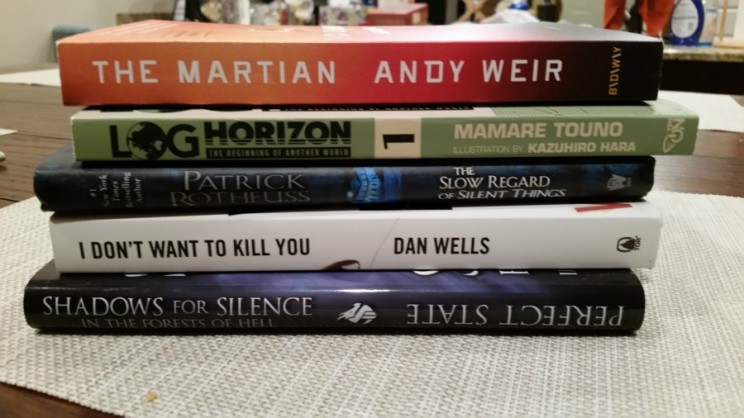 The Martian by Andy Weir: Hard science fiction has been a love of mine for decades. In fact, I've been a fan of sci-fi for longer than I've been a fan of fantasy. The Martian is the near-future science fiction story of an astronaut left on Mars by mistake, after an abort mission directive sends the rest of his team back to orbit and on their return to Earth.
The Martian has been on my radar for a while, but when my father-in-law came to visit over Memorial Day, he had nothing but great things to say about it, so it immediately bumped to the top of my list. Plus, there's a movie coming out in November starring Matt Damon, so I figured I needed to read the book first.
Log Horizon 1 The Beginning of Another World by Mamare Touno: The latest expansion has landed, but after the patch finishes installing, the entire population of the Japanese server of The Elder Tales MMORPG finds themselves in the game, literally.
This was more of an impulse buy. I have been wanting to write a near-future sci-fi story revolving around the relationships built up by gamers in an MMO environment ever since I saw Sword Art Online, so when I saw this, I decided it was worth taking a look.
The Slow Regard of Silent Things by Patrick Rothfuss: Set in the same world as the author's Kingkiller Chronicles series, this is the story of Auri, a mysterious woman living in the tunnels beneath the infamous University. The same University that Kvothe Kingkiller learned the art of sympathetic magic.
I'll confess that I don't know much about this one other than I loved Pat's other books. If it's anything like The Name of the Wind or A Wise Man's Fear, I imagine that this will be spectacular.
I Don't Want to Kill You by Dan Wells: Book three in the John Cleaver series puts John on the offense. In the first two books, he's been entirely reactionary, fighting to protect his family and his community against the demons. But now, he's called one out, hoping to end it once and for all.
I've read the first two books (my review for Mr. Monster can be found here) and loved them. John has made such great strides as a person and a sociopath, and I am looking forward to seeing how much more he can grow as a character before it's all said and done.
Shadows for Silence in the Forests of Hell / Perfect State by Brandon Sanderson: Once again, I'll admit that I picked this up on the strength of the author alone. I met Brandon at Minicon 50 and they were selling a limited edition printed copies of these stories, so I decided it was worthwhile to pick one up. And before you ask, yes I did get it signed. And no, I didn't hump his leg. I was rather proud that I didn't completely geek out, considering Brandon Sanderson is one of my favorite authors.