Book Review: Before the Crow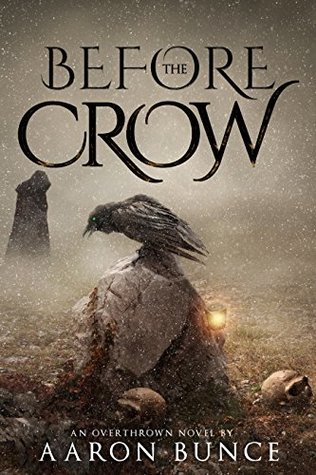 Before the Crow, written by Aaron Bunce, is the second volume in the Overthrown series. Published by Autumn Arch on March 29, 2016, Crow continues the story that began with The Winter of Swords (formerly entitled Within). If you've read my review of the first book, found here, you'll remember that the Overthrown series is a blend of horror and epic fantasy.
While Crow carries forward the same characters and continues their story, that's pretty much where the similarities end. The second volume in the series leans fully into its epic fantasy roots and tones back the horror elements. At the same time, it takes all those loose threads from the first book and begins to weave them together into a beautiful tapestry.
If possible, Denoril feels even more realized than before. While other authors use ephemera to add flavor to their worlds, Bunce dives deep into the history and mythology of the land and makes it relevant in ways vital to the story and to the magic.
I do have a confession to make: I read Before the Crow without rereading The Winter of Swords. This was because The Winter of Swords was just so emotionally difficult for me to read. I hate it when bad things happen to good people.
After finishing Crow, I sort of regret not refreshing my memory. That said, Bunce did a great job of conveying reminders and summaries in the text of Crow without derailing the story. Some books require you have an intimate understanding of the previous book(s) in the series, but Before the Crow doesn't set that bar high. I wouldn't skip reading the first book in the series, though. My feeling is that a lot of the hope and tone of Before the Crow works because of the tone set in The Winter of Swords.
As of May 13, 2019, Before the Crow is currently $2.99 for the Kindle version on Amazon and is also available through the Kindle Unlimited program. I originally recommended The Winter of Swords for fans of George R. R. Martin's A Song of Fire and Ice, and I still make that recommendation; however, the tone of Before the Crow is much more hopeful than its predecessor.
Title: Before the Crow
Author: Aaron Bunce
Publisher: Autumn Arch Publishing
Date: 2019 (first published March 29, 2016)
ASIN: B01D52J1PY
Find it on Amazon or Goodreads